WILLOWBROOK SPORT ACTION
Football World Cup Week!
At Willowbrook we are passionate about our sport and in celebration of the Football World Cup we organised a sports week. We invited several coaches to work with us so we could try new sports and the parents came to watch our sports day!
We had coaches from Premier teach us about Street Surfing and Fencing!
Mr Upston from St Luke's came and taught us Boccia and Ultimate Frizbee!
Matt Jess came and worked with Year 2 & 4 to practise their rugby skills and our most active runners got a quick session on running technique!
PLUS we had our annual Sports day and for the first time in 4 Years Cherry gave the trophy to Maple!
Year 1 and 2 Football
Some of our year one and two children played in a Football World Cup festival at Wynstreme and played some incredible football. In our pool, it came down to penalties to see who would go to the next round. Unfortunately, we lost to Broadclyst after a 3-2 defeat. The team still continued to play some friendlies which were played in great spirit!
New Age Curling
Our Year 4's were so successful at New Age Curling festival held at St Luke's Science Sport College, they got through to the Devon Ability Games! They had an exciting day travelling to Barnstaple competiting against schools from all over Devon. They tried street dancing, fencing and watched an impressive Irish Dancing display during the opening ceremony.
As well as getting a free T-shirt, they also won Bronze medals! We also need to give Katie a special mention for getting the Self-Belief medal. She was chosen out of all the primary and secondary schools that took part in Curling to be awarded with this special School Games value medal.
Exeter Premier League
At Willowbrook, we are part of the Exeter Primary Football league which is supported by Exeter City community department. Every couple of weeks the team attend St Peters and play against local Exeter schools.
Football league team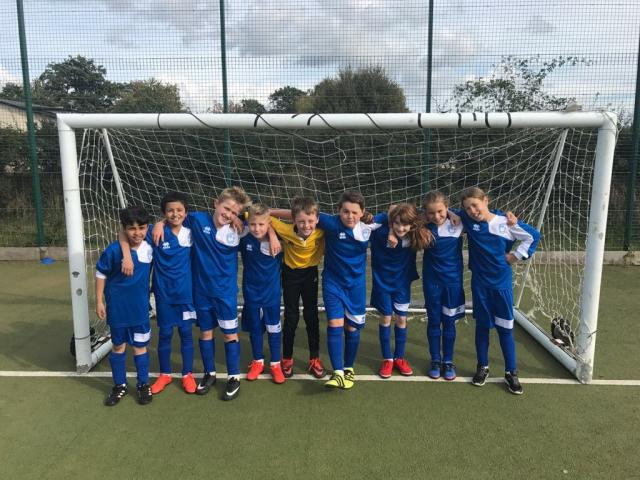 See below the latest league table!
Golden Mile
We are really lucky at Willowbrook to have a running track on our school field. This means during the school day we get to have a brain break by running a few laps. We also get to run around the track at break and lunch times. We record this on the Golden Mile website which records how many miles we have run.
Look below at how many miles some of our children have run!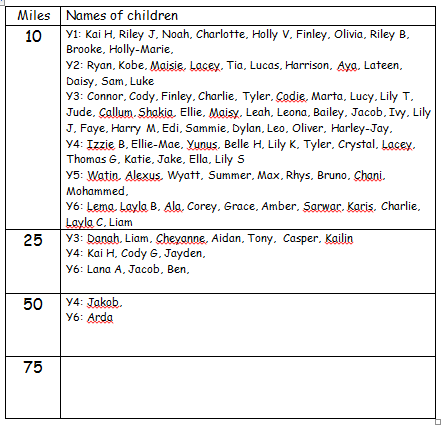 Santa Run 2017
Our family captains have pledged to be the most active school in Exeter! With this in mind they planned, organised and lead a Santa run on 1st December. Both children and parents dressed up as Santa and ran our Willowbrook mile. We raise over £500 for the Exeter Foundation. It was so much fun! Thank you to all the parents who helped sponsor and run! There were some great costume.
Cross Country at Killerton
At Willowbrook we really enjoy running! Sixty of our Key stage two children took part in School Games cross country event at Killerton. We were very successful! Many of our Year 6 boys came in top 20 places out of 100 runner.s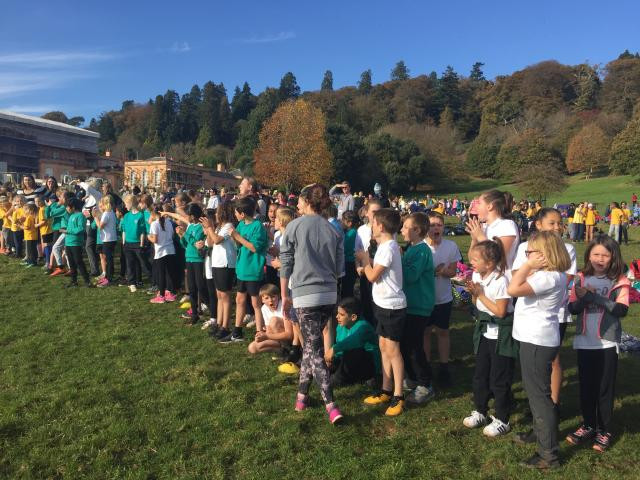 Gifted and Talented
20 children from Key Stage 2 attend every half term a gifted and talented day organised by St Luke's sport and Science College. This time the children learnt all about the 'eat well plate' and chose a balanced plate to eat!
They took part in athlete visualisation activity where the children have to visualise themselves winning a race or scoring a goal!
Dan Green from Exeter City football academy gave them an exciting football session where they could practise visualisation.
Finally Miss Hookway encouraged the children to use visualisation in Kickball game.
Tri-Golf
30 of our Year 3's had a go in a Tri-golf tournament. Lots of the children were nervous because they hadn't been to St Luke's before or played golf! Despite this the children had a fantastic time and relished in the new challenge! They had 8 games to play which involved concentrating on areas to get the most points and using new sports equipment.
One of our teams were awarded with 'Spirit of the games' medals which is one of the best prizes you can get. This is because children are awarded because they have shown the values: respect, teamwork, self-belief, determination, honesty and passion!
Well done Year 3!
Year 2 Exeter City football tournament
Year 2 took part in an indoor 6-a-side football tournament run by Exeter City. They played Duchy, Whipton Barton Infants and Bowhill and won all their matches. The children showed great football skils and teamwork. The children had a fantastic time and are looking forward to play some friendly matches with these schools in the future.
Year 3 & 4 Football
A selection of our Year 3 and 4's played Football at two tournaments at St Luke's. We were playing against local Exeter schools and it was a tough competition!
The children showed fantastic teamwork skills and support to their fellow team mates. The children showed great self-belief and determination to be successful. Willowbrook team came third and got given some flashy bronze medals! Sephé was voted as our player's player. Player's player is chosen by the team who they feel has demonstrated the Willowbrook values.
Well done team!
Year 5 & 6 Football
A selection of our Year 5 and 6 played Football at two tournaments at St Luke's. We were playing against local Exeter schools and it was a tough competition!
The children have made so much progress over the year and are now a tough team to beat. They played with great determination and Tyler saved some fantastic goals! Bader has some amazing ball control skills and is an excellent striker!
The boys played extremely well and came second in the competition. They were awarded some impressive Silver medals!
Fantastic football boys!
Hockey Tournament @ St Luke's Friday 7th November
Miss Stanbury & Miss Whitworth took 8 year 5&6's to St luke's to take part in a Sainbury's school games competition against other Exeter primary schools.
The children played 5 games very well. They won 2, drew 2 and lost one and game second overall. The children showed excellent Teamwork and the captain demonstrated great leadership skills! It was a fantastic way to spend a cold, wet Friday evening! Well done team J
U12's Futsal competition
Mr Collings and selection of boys from Year 5 and 6 took part in U12's Futsal competition. Mr Collings was very impressed with the boys ability to play as a team. The boys won several matches and came 4th in their pool.
Players player was Eli! Well done Eli.